Archive for the 'College Student Hazing' Category
You never know what's going to happen when you fill a frat house room with naked college pledge boys and horny frat students with hard cocks, but you can bet it's going to boil down to ring toss my ass! These frat boys from Haze Him make sure the new pledges are put through the […]
See what happens when a group of student pledges for a fraternity are taken are taken down to the dungeon of shame for a series of rituals they will have to endure to join their frat boy club in the brand new episode from HAZE HIM, the number one college hazing site on the web.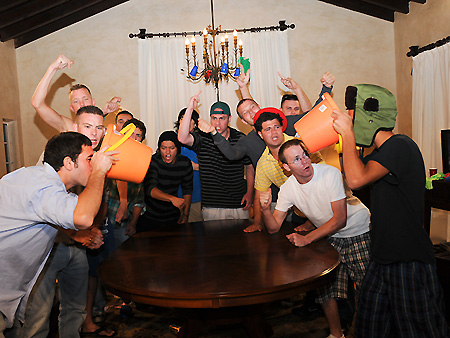 Description:
Have any of you ever woken up from a night of partying and found out that your friends drew cocks all over your face and down your back while you where passed out? well this week we have a sick submission from a western frat in which one of their pledges woke uo with all sorts of shit drawn and written on him. this party was that crazy his final challenge was to suck some cock and get fucked and if he was serious about joining they prestigious frat he would have to do it or get the fuck out!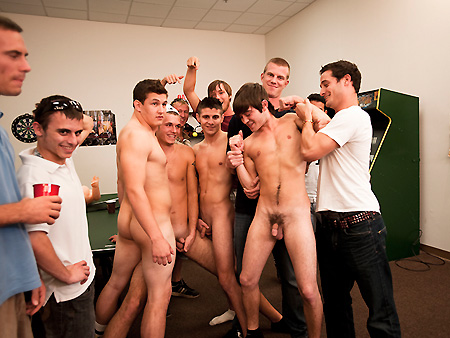 Description:
In this week's submission we have some pledges taking advantage of some of the perks of being a brother at the local frat. But once word got around that the pledges were in the game room having fun, their frat brother came in camera in hand to teach them a very valuable lesson: NO PLEDGES IN THE GAME ROOM. What these poor saps didn't realize is that the game room is for brothers only. Pledges had no business in there unless it was to clean and organize the games. So what happened next was humiliating enough to watch; we cant begin to imagine how shitty it must have been to actually have to go through this punishment. Let's just say these poor pledges had to strip down naked. In which the brothers had them do some very questionable activities such as the cock pile, naked leap frog, cock pong and, well, dick in the ass. These soon-to-be frat boys will never forget this day.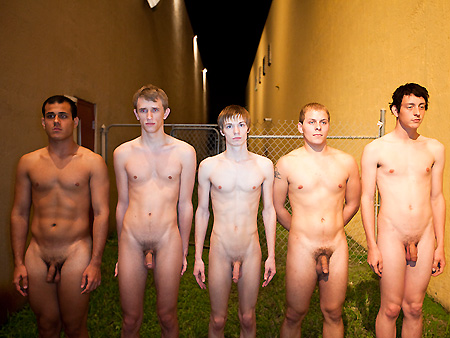 Description:
College students would do almost anything to be accepted into their school's fraternities. This week's submission shows no different. Seeing what these poor pledges have to endure in order to become part of the elite crowd sometimes makes you think, "Am I really willing to suck dick or allow another guy to grab my Johnson?" The reality is for some people being a winner, being a respected individual on campus means so much that they are willing to compromise their sexuality and partake in these activities. This week we have a pretty wild submission. We chose this video to be among our winners because these frat boys had it all. They hazed and humiliated their pledges in ways that, well, are pretty creative and down right amusing. Naked push ups, wrestling and sit ups are among some of the things these poor wanna be frat boys had to survive in order to call themselves brothers. But what really takes the cake in this video is the "Trust Circle": pretty much the pledges blindfolded themselves and sat naked in a circle with their mouths wide open trusting that their soon-to-be brother wouldn't do anything funky to them. See what happens…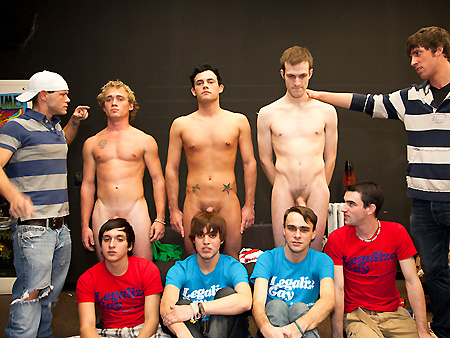 Description:
LMAO this has got to be one of the best pranks/hazings we've seen to date! The pledges in the video were tricked by their frat brothers. They thought they were being taken to the "Boom Boom Room" to get blow jobs from some hot chicks. When they showed up, the lights were off and they were told to pull down their pants. Then some random dudes started sucking on their dicks. These pledges were enjoying the blow jobs until the lights came on and thats when shit got real…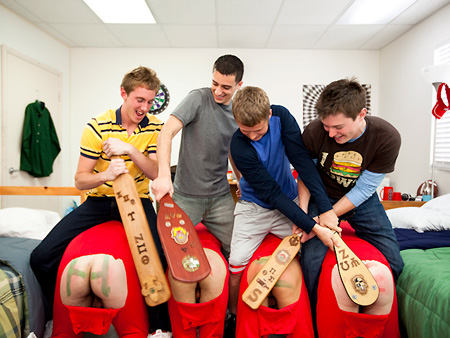 Description:
Fraternities are always fun. But sometimes you have to do some pretty iffy things to get accepted into the brotherhood. This week we received a pretty bizarre video from an east coast school. They had their pledges dress in assless PJs with the words HAZE written on their asses. These pledges had to suck cock and get stuffed up the butt in order to get accepted into the family.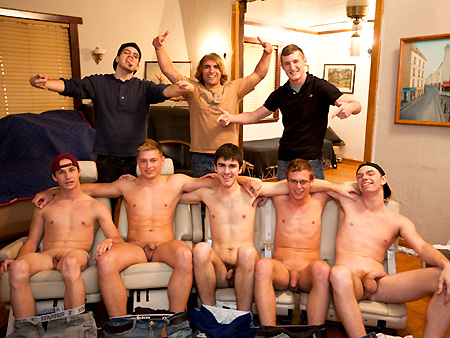 Description:
Happy New Year everyone! This year we're going to kick things off with an awesome submission vid sent from one of the eastern schools. Pretty much these frat boys had their pledges do the most random gay shit possible in order to win the $10,000. Of course the brothers lied and told the pledges everyone would split the money, just to motivate them into letting go of their pride and opening up those assholes.